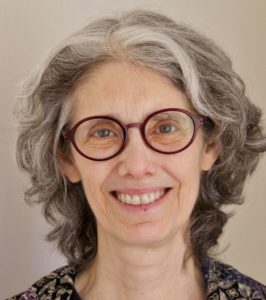 As a free-style weaver and fiber artist with an adventurous mixed-media spirit, I create one-of-a-kind wearable art, wall-hangings, table-runners, home decor, vessels, and whimsical whatnots – all of which are lively with the interplay of magic and craft.
My work incorporates a wide variety of reclaimed and new materials, including yarn, cloth, paper, wire, plastic, and bits of treasure, along with pieces of garments and other textiles.  Recycled materials range from reclaimed sari silk that supports women's literacy and self-sufficiency programs in India to fabric scraps and construction left-overs that would otherwise go to the local landfill.   Each piece is unique in its alchemy of materials, mystery, and faith.
I grew up with my father's textile business as my playground, which seeded my
life-long delight in exploring textures, colors, and scraps of all kinds.  In 2015, I found a rich source of creative inspiration in the Japanese SAORI free-style weaving tradition, with its emphasis on spontaneity, innovation, and authentic self-expression. 
I'm a member of the Whidbey Island Surface Design Association, the Whidbey Weavers Guild, and the Whidbey Island Arts Council –  resources of highly skilled artisans, creative inspiration, and nourishing support.
Please contact me at lianna@heartsong-weaving.com or 360-320-8951.
I look forward to connecting with you.
I also offer Soul Wisdom intuitive card-readings
to help you reconnect with your inner compass and
illuminate new perspectives and possibilities for moving forward. 
www.liannagilman.com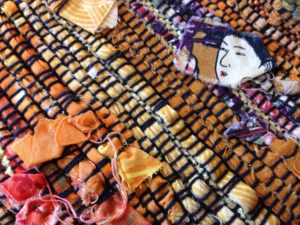 A weaver is a woman becoming wise. 
Clarissa Pinkola Estes